The Morganville Resident Competition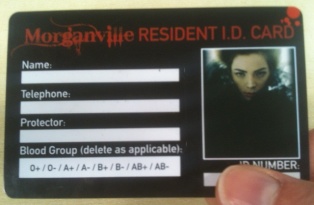 Get hold of a Morganville I.D. Card and you'll become an official Morganville Resident and be allowed to enter a competition to win a limited edition signed harback of the last book in the series, Daylighters (out November 2013).
How do I get an I.D. Card?



I.D. cards were given out at all the events on the Fall of Night Book Tour, so if you attended any of the events, you should have one!
If you didn't make it to any of the talks and booksignings, you can still get your hands on an I.D. Card by doing the following. Take a photo of yourself holding a copy of Fall of Night and either tweet us the photo @Allisonandbusby using hashtag #MorganvilleID, OR post the photo on the UK Fans of the Morganville Vampires Facebook Group.
The first 20 to tweet or post a photo will be sent an I.D. card AND a Morganville Vampires Bag. Others will just get an I.D. Card for as long as stocks last.
Got an I.D.Card already? Enter the competition here.
https://www.allisonandbusby.com/competitions/the-morganville-resident-competition-2/