Catch Susan Wooldridge at the theatre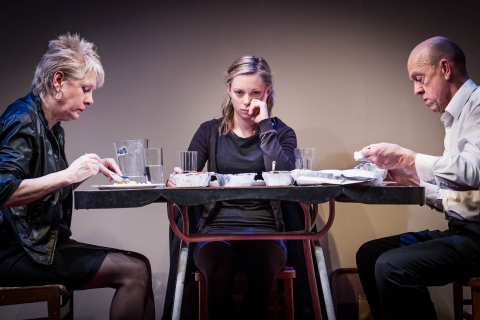 Some of our authors do not dedicate themselves to writing full-time, but amazingly find the time to write novels whilst enjoying another successful career. For example, there's Martin Edwards (author of the Lake District mysteries) who is a partner in a national law firm, Elizabeth Corley (author of the DCI Fenwick crime novels) who is Chief Executive at a global investment company,  Zoë Sharp (author of the Charlie Fox thrillers) who is a photo-journalist for the motoring press, and Susan Wooldridge (author of The Hidden Dance) who enjoys a marvellous career as an actress.
You will meet authors at book signings and literary events and see them in their 'author mode' but you don't often get to witness the authors in action doing their 'day jobs'.  So we're delighted to flag up the fact that Susan Wooldridge (sitting on the left in the above picture) is currently in the new play, Lay Down Your Cross at Hampstead Theatre, part of its 4-strong cast which includes her husband, Andy de la Tour (on the right).
You may think we are biased but the production has received wonderful reviews so you have three more nights (ends 24 March) to catch the show and witness the double-talent of one of our authors!
Chiara Priorelli, Publicity & Online Marketing Manager