Last week I read an article title that made me feel a little smug. Young book-buyers 'put off Amazon'. A survey from the Booksellers Association showed that over 70% of 16 – 24 year olds said recent revelations about internet-only booksellers' tax affairs made them less likely to shop for books online, as did 59.5% of the overall shoppers questioned. As I read that, my inner voice went 'Ha!'.
Amazon received a lot of negative press when investigations revealed that the bookselling behemoth only paid £3 million in taxes last year, despite overall UK sales of £4.2 billion. Four point two billion. It's an astronomical figure that makes me feel a little queasy. But the good booksellers of England (quite a catchy name for a union, no?) have decided something must be done. Booksellers Keith and Frances Smith started a petition for Amazon to pay more corporation tax which received a staggering 170, 000 signatures. They handed the petition into Downing Street and it's due to be discussed in the House of Commons.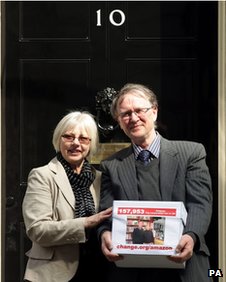 The couple's conservative MP Chris White, who will lead the debate, neatly summed up their campaign:
'"Whether or not Amazon is operating within the law, it certainly does not appear to be operating within the spirit of the law. I think Amazon has a responsibility to pay their tax where they make these phenomenal sales and I don't thing there's anything wrong with pressing this point home."
Amazon may be a giant but thousands of small voices can be deafening.
Sophie Robinson, Publishing Assistant