Over the weekend I started reading our very own The Disenchanted by Budd Schulberg. Since I've been here I've started an A&B reading list and this has been top of the pile for a while. It's one of those books I want to force on everyone.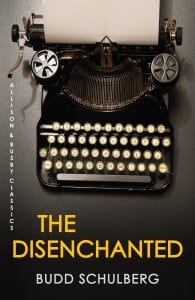 I am utterly fascinated by Manley Halliday, the tragic protagonist of the book who used to be a successful writer in the 1920s but the 30s have left him forgotten and disillusioned. And the fact that the book is based in part on a real-life and ill-fated writing assignment between the author and F. Scott Fitzgerald in 1939 makes it even more captivating.
Since I love books so much, I've always found myself interested in the people behind the stories and this is proving to be better than some of the stories Fitzgerald wrote himself. The storyteller has become the story.
My love for this book is also intensified by the sleek eye-catching cover. On my commute to work I keep catching people staring at that beautiful typewriter. I make sure the title of the book is in full view in hopes they go out and search for the book!
Which writers' lives would you be interested to read about?
Sophie Robinson, Publishing Assistant