B & B & B (bed and breakfast and books)
What would you say was the mark of a good hotel? Excellent food? Impeccable service? A choice selection of reading material? I'm just back from a week off which included a few nights at the very comfortable Lake Country House Hotel, north of the Brecon Beacons. Tucked away in the countryside and replete with not one but two resident dogs (one an utterly adorable chocolate labrador puppy – I'm officially dog broody now) there was one touch to the stay of which I heartily approved. Not chocolates on the pillow but a selection of reads available in our room and dotted through the hotel (as pictured below).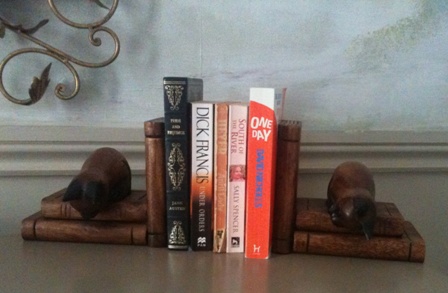 And many of the reads were perfect for me. If I had a spare moment before dinner I could reread my second favourite Austen, or dip into a Heyer that I hadn't read before, or indeed finally pick up One Day to see what has made this the bestseller of the year. If my other-half had had an inclination to read there was a slightly more boysy option with Under Orders, by Dick Francis. A hotel that thought of everything!
Lesley-Anne Crooks, Sales & Digital Manager