Another recommendation from Oz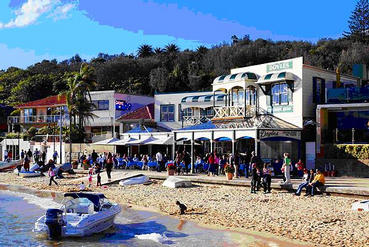 My favourite restaurant in Sydney has got to be the Doyles in Watson Bay – a well-known but unpretentious restaurant perched next to a lovely little suburban beach, from where you have a lovely view of the Harbour Bridge in the distance as you tuck into fresh seafood.
I can't say I have explored much the menu – simpy because I fell in love with the first meal I had there: Jumbo Prawns as a starter – massive prawns mixed with a spinach, bacon and pine nut sauce, coated in breadcrumbs and fried, and served with a honey mustard dip (it actually sounds a bit sickening but it is to die for – followed by Lobster (Butter Sauce or Mornay).
If anyone is planning a trip to Sydney, let it not be said I didn't give you a tip. Everyone will know Doyles, everyone will mention the battered Barramundi…but I'm telling you, don't let those Jumbo Prawns pass you by.
Chiara Priorelli, Publicity Manager (and resident foodie)