An unfortunate event for a library
Through the wonder of twitter I have seen a few fabulous pictures of people's mini free libraries around the country and the world. Whether in disused phone boxes, as we highlighted in last week's blog, in other nooks and crannies or in little bird-box-like constructions, there's a growing variety out there. Check out this blog post for a few pictures of this variety and head over to The Little Free Library for some beautiful pictures and their map function to see if there's one near you.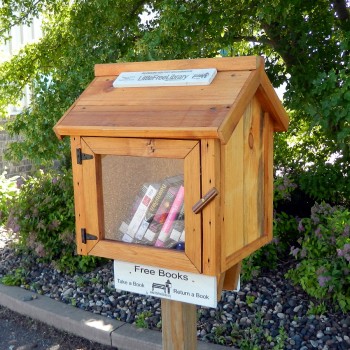 The Guardian even provide a helpful guide to setting up your own micro library.
It seems a wonderful way to engage with your community, particularly in this age of threats to libraries, and puts reading and books right under people's noses.
So, let's give Leawood City Council in Kansas, USA, the derisive slow clap that it deserves for the bah-humbug approach they've taken to one nine-year-old boy's 'take a book, leave a book' structure. Read more here.
Thankfully, there are plenty of people out there who have voiced support for Spencer Collins' little library, among the latest being Daniel Handler, a.k.a. Lemony Snicket. A micro library being forced to close – that really would be an unfortunate event.
Lesley Crooks, Digital & Online Marketing Manager