An evening with Matt Lucas and other nice freebies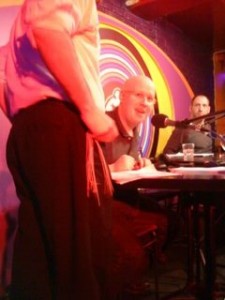 Ah, how nice to enjoy a freebie in these very credit crunchie times (there must be a better adjective than that for the current climate, that makes me think of breakfast cereal). Last night I was one of about 90 lucky people who got free tickets to watch a recording of a new comedy panel show that will be gracing BBC Radio 2 in the near future, chaired by Matt Lucas of Little Britain fame and called And the Winner Is. I adore shows such as Have I Got News for You and Mock the Week, so how could I resist? The soon-to-be-ball-and-chain and I tittered our way through two very stuffy hours at the Comedy Café as the other comedians/panellists suggested nominations for the following categories: 'Least Offensive German' (Einstein and the girl who sang '99 Red Balloons' fought it out, sotospeak); 'Catchiest Theme tune to otherwise Forgettable Show' (ah, the jaunty rhythms of Are You Being Served?); as well as 'Most Weary Cliché', as anyone who has seen The End of the Line would tell you, there are not plenty more fish in the sea.
All in all, the evening was good, clean(ish), free fun and put me in a good mood with the Beeb. But the BBC are not the only ones doing the caring, sharing thing, oh no. As well as giving you a (hopefully entertaining) daily window into the workings of the A&B office, we're giving £2 off our Books of the Month and you can get your electronic paws on free sample chunks of these selected new releases. Among the other worthy titles, and not to be missed by anyone with a penchant for historical fiction like myself, is Lauren Willig's The Secret History of the Pink Carnation – imagine if the Scarlet Pimpernel had been a real historical personage baffling Frenchies everywhere, and that he was not the only flowery-named spy doing deeds of derring do and…well, I hope that's enough to whet your appetite.
Lesley-Anne Brown, Sales & Marketing Manager