Afternoon Tea with Edward Marston in Ludlow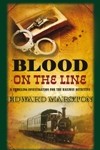 Wednesday 13th April, 4.00pm   LUDLOW
Hosted by Castle Bookshop, enjoy afternoon tea with historical mystery writer Edward Marston, in conversation with Kate Charles, at a private venue in Ludlow, Shropshire. Marston will be signing copies of his bestselling Railway Detective books including the new releases Railway to the Grave and Blood on the Line. And there will be a raffle to win some free books too! Attendance by invitation only. To get an invite call the bookshop on 01584 872562.