A toast to Kate Charles! (And other event news…)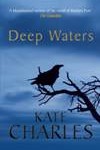 Tonight, as I write this, a crowd has gathered at the wonderful Heffers Bookshop in Cambridge to celebrate the launch of Kate Charles' new ecclesiatical mystery Deep Waters. There will be much drinking of wine, much signing of books, much merriment in general. Who ever said Monday nights were boring?
Now, if you are reading this thinking to yourself: "Why? Why am I not a part of this??", it's probably because you weren't aware of our new Events Calendar which will keep you up to date with our forthcoming author events, so you never have to miss out on any in the future.
Just go to our Events section and you'll see the next few events we've got coming up on the first page, but if you want to check further ahead, use the mini-calendar in the top right corner. Scroll forward to eg. September, and then double-click on the header link, and it'll bring up all the events happening that month. Just remember to check it regularly as new events are added all the time!
P.S. You'll soon also be able to search events by author name too (just one of the small improvements we'll be making to the site).
Chiara Priorelli, Publicity Manager