A £1million laughing matter…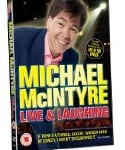 News has it that Penguin (Michael Joseph) has signed up an autobiographical book by Michael McIntyre – the man of the moment in the UK comedy circles. Personally I think he's hilarious. I saw him live at The Lyric in Hammersmith (before he hit stardom), I bought the DVD Live and Laughing and I series-linked his Comedy Road Show on my Sky+ Planner (how I lived without Sky+ I do not know…).
Anyway, all to say that I am a big, big fan – of his comedy. Not sure I feel the need to buy a book about his life. Apparently (well, according to The Sun so take it as you will) suggests that Penguin has paid £1m for the book. Sure, the guy is funny, but even I would have to ask: is he really that funny?
Chiara Priorelli, Publicity Manager