My heart did a little leap this morning upon learning that Benedict Cumberbatch will be narrating the audiobook for The Spire by William Golding. As a huge Cumberbatch fan, I relish any Benedict-related news and it's made even better by being literature orientated too.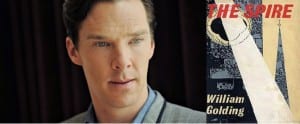 He has such a rich, distinctive voice I think he'd be perfect to narrate pretty much any audiobook  (including ours, Benedict?!).
Are there any other actors out there you think would be good audiobook narrators?
I think Kevin Spacey would be top of my list alongside Alan Rickman.
Sophie, Editorial Administrator