Wheatle reveals children's home abuse in the Sunday Mirror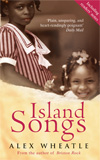 A&B author Alex Wheatle has revealed he was abused at a children's home run by Lambeth council.
Writing in the Sunday Mirror, the 51-year-old said he was sexually abused by a doctor at Shirley Oaks children's home in Surrey, and that other children he knew there were also abused by "strange nameless men".
Wheatle appealed to Home Secretary Theresa May to make sure that the public inquiry she has launched into how child abuse in institutions was ignored by the authorities include "the thorough investigation of social services practices, safeguards for children and protection policies and how such men were allowed to get close to vulnerable children".
Wheatle's first novel was Brixton Rock (Blackamber Books), about a mixed race youth in a children's home who is reunited with his mother. He has published five more novels since then, including Island Songs.
Wheatle was made an MBE in 2008 for services to literature.