The Death of Downton Tabby Launch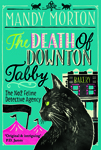 Join Mandy Morton, author of The No. 2 Feline Detective Agency series, for the launch of her latest title in the series, The Death of Downton Tabby at Heffers, Cambridge on Thursday 30th June, 6.30pm.
On the arrival of the three Brontë sisters and the famous aristocat, Sir Downton Tabby, Hettie Bagshot and her sidekick, Tilly, are plunged into crisis as a serial killer stalks the festival grounds. Will there be an author left standing? Will Meridian Hambone sell out of her 'Littertray' t-shirts? And will there be enough crime teas to go round?
Although the event is free, booking is essential to guarantee a place. You can reserve your place by clicking here.