Suzette Hill at Crimefest 2014, Bristol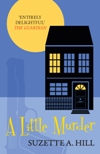 For a chance to meet Suzette Hill, author of A Little Murder and the soon to be published The Venetian Venture, head to the Crimefest 2014 panel, 'Secrets and Spies: Following, Finding and Ferrying Out The Truth'. The author will be discussing mystery and espionage alongside crime writers Mick Herron, Michael Ridpath and Edward Wilson.
Drawing top crime novelists, readers, editors, publishers and reviewers from around the world, Crimefest gives all the opportunity to celebrate the crime genre.
For more information and to see the Crimefest programme, click here.