Suzette A Hill at St. Katherine's Hall, Ledbury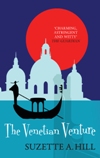 Suzette A. Hill will be speaking and signing books at St. Katherine's Chapel Hall in Ledbury, on the 31st July, from 10am-12pm.
The event is one of a series to celebrate the imminent opening of the new Ledbury Library. Suzette will be talking about her novels and reading extracts from her latest book, The Venetian Venture.
To meet the author and to get your copies signed, be sure to attend!