Suzette A. Hill at Hearth Festival, Hawarden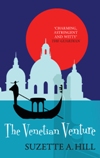 Suzette A. Hill, author of The Venetian Venture and A Little Murder will be appearing at Gladstone Library's Hearth Festival, on Sunday Feb 8, 10.30am – 11.30am. Suzette's panel is entitled 'Writing Novels: A Complex Masochism'.
Gather around the warming fire to listen to readings, attend workshops and discuss books and ideas.
Hearth is a unique chance to spend a weekend up close and personal with award-winning writers. Improve your writing, find out how to publish your novel, get hints and tips and find inspiration.
Be prepared to be enthralled and informed and keep an eye out for more details, including times, TBA.