Ruth Dudley Edwards at Crimefest 2014, Bristol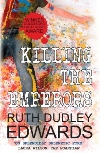 Another favourite A&B author is participating in Crimefest 2014. Come and meet Ruth Dudley Edwards, author of Killing the Emperors, at her panel event, 'An Irishwoman, A Welshman, An Englishwoman, A Scotsman, & An English Moderator Walk Into A Book', on Friday the 16th May at 4pm. Ruth will be moderating another panel, 'Death in High Heels: Women As Victims', also on Friday 16th, at 11.20am.
Keep an eye out for more details and exact location to follow, and click here to visit the Crimefest website.