Rebecca Tope for Books Are My Bag – Borzoi Books, Gloucestershire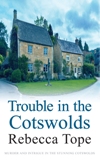 Rebecca Tope author of the Cotswold Mystery Series, will be visiting Borzoi Bookshop in Gloucestershire on Saturday 11th October, at 3pm, as part of the Books Are My Bag October events.
The BAMB weekend runs from Thursday October 9th until Saturday October 11th, culminating in the Big Bookshop Parties with An Author in Every Bookshop on Saturday October 11th.
Keep an eye out for more details to come, and click here to visit the Books Are My Bag campaign website.