Rebecca Tope at All Saints' Church, for AsparaWriting festival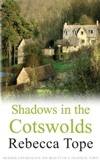 Join Rebecca Tope, author of The Cotswold Mystery series, at the AsparaWriting Festival in Evesham, on Thursday 1 May 2014.
The festival, which is the first of it's kind, is a chance for aspiring writers to work with professionals.  Attend Rebecca's evening talk, 'The Cotswolds and Me', in All Saints' Church, at 7pm. Click here for more details and to book.
All Saints' Church, Evesham, 7pm- Thursday 1st March