Rebecca Tope and Martin Edwards at Carlisle Crime Writing Festival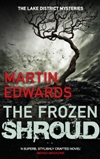 Come and meet prolific A&B crime authors, Martin Edwards and Rebecca Tope, at the Carlisle Crime Writing Festival, on Friday 12th June. The pair will be joined by Graham Smith and Martin Daley to discuss how all four authors use Cumbria as a backdrop for their writing. The quartet will discuss how the county of the Lakes influences their work, and Cumbria's place in crime fiction.
For more information, please visit the festival website.