Rachel Caine at MCM London Comicon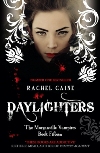 The exciting new vampire web series of the Morganville books will be making its world premiere at this month's MCM London Comic Con. Join bestselling A&B author Rachel Caine as she introduces the cast, which will include Buffy The Vampire Slayer's Amber Benson along with Lindsay Seidel, Jordan Tanner Farris and a surprise special guest!
Debuting on Felicia Day's Geek & Sundry network in late October, Morganville adapts The Morganville Vampires, Rachel Caine's hit series of novels set in the vampire-haunted city of Morganville, Texas. Amber Benson, best known as Tara in Buffy The Vampire Slayer, plays lead vampire Amelie, Lindsay Seidel plays series protagonist Claire and Jordan Tanner Farris plays Shane, a hotheaded Morganville native with a fierce hatred of bloodsuckers.
The MCM Comic Con is held at London's Excel Centre. Click here to buy your ticket!