Morganville UK Tour – Waterstones Birmingham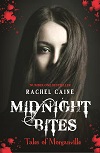 Rachel Caine, author of the hugely popular Morganville Vampires series, will be visiting Waterstones Birmingham as part of her Morganville UK book tour on Tuesday 8th March at 6.30pm. This is your opportunity to meet Rachel, who will be signing copies of her latest book Midnight Bites – Tales of Morganville and doing a Q&A, and to pick up some Morganville merchandise too.
Tickets are £3 and can either be purchased in store or by calling 0121 633 4353.