Meet Nicola Ford in Avebury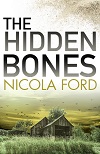 Nicola Ford, debut author of The Hidden Bones, will be talking about her book and signing copies at the National Trust shop at Avebury on Saturday 25th August.
As the National Trust archaeologist for Stonehenge and Avebury World Heritage Site, it's no surprise that The Hidden Bones follows two archaeologists, and the mystery they uncover during a dig.
For more information about the event, click here.