Matin Edwards at Crimefest 2014, Bristol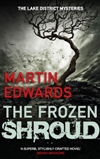 Another favourite A&B author is participating in Crimefest 2014. Come and meet Martin Edwards, author of the Lake District Mysteries, at  his panel event, 'Archaeologists & Academics: Digging Up The Dead With A Spade or A Pen', on Saturday the 17th May at 11.20 am.
Keep an eye out for more details and exact location to follow, and click here to visit the Crimefest website.