Mary Nichols at Wellington Library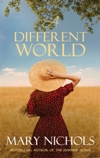 Mary Nichols, author of A Different World and Escape by Moonlight will be speaking at the 'Tea and Tales of Yesterday and Today' event at Wellington Library, on 10th July from 3–4 pm.
Enjoy reading about families, relationships, history and love? In the great tradition of afternoon tea, join Mary alongside other popular authors for a discussion about the novels you love and the stories you want to read. The programme of events is to include:
Telling Secrets for Kids 1.30-2.30
Tea and Tales 3.00 – 4.00 pm.
Writers' Workshops for adults and young adults 4.00 – 6.00
The Truth about Love 7.00 – 8.00 pm
To meet Mary and participate in this exciting event, please book a free place by contacting Wellington Library on: 01952 382990