Martin Edwards at Wrexham's Carnival of Words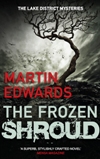 Come and join Martin Edwards and other members of Murder Squad, who will be in conversation on Wednesday 22nd April, at 7p.m in Wrexham Library, as part of the Wrexham Carnival of Words.
Martin is the author of the acclaimed legal mysteries featuring Harry Devlin. He also writes the hugely popular crime series set in the Lake District, featuring The Coffin Trail which saw him shortlisted for the Theakston`s Crime Novel of the Year Award.
Keep an eye out for more event details TBC.