Martin Edwards at Stoke-on-Trent library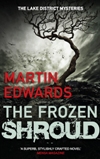 Martin Edwards will be taking part in a a Victorian Murder Mystery evening, "Who Killed George Hargrave?", at City Central Library, Stoke-on-Trent on Friday 7th November.
Play detective, unmask the killer, and win prizes for the best solution to the puzzle. Created and hosted by award-winning crime novelist and author of the Lake District Mystery books, the evening will also feature a talk on classic detective fiction. The event will start at 7.30 pm.
For more information, call the library on 01782 238455