Martin Edwards at Gladfest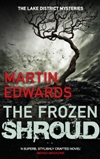 Come and meet Martin Edwards, author of the Lake District Cold-Case Mysteries, at Gladstone's Library for Gladfest, an increasingly popular festival with books, food and more! Martin returns to the library for his second interactive whodunnit, this time set in 1920s, on Friday 4th September at 8pm.
Please note, this is a ticketed event. For more information about tickets, please click here.