Martin Edwards event at Denton Library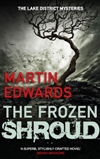 Martin Edwards, author of The Frozen Shroud, will be celebrated at Denton Library during an afternoon of 1920's fun. The author's books will be discussed at the 'Whodunnit' crime event.
Call Denton Library on 0161 336 8234 for more details. Please note that the library is closed on Tuesdays and Wednesdays.