Martin Edwards at Carlisle Crime Writing Festival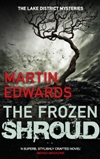 Martin Edwards, Margaret Murphy, Ann Cleeves, Cath Staincliffe, Kate Ellis and Chris Simms make up Murder Squad, and will be appearing in Carlisle on the first night of the festival, at 7pm.
Murder Squad were formed in 2000 when a group of crime writers living and writing in the north of England joined forces to promote the crime genre and their own work. Since then, the squaddies have enjoyed great success throughout the literary world, winning awards, and seeing their books adapted for stage and screen.
Find out more about Martin Edward's Lake District Cold Case Mysteries, here, and visit the festival website for more details for this event.