L. C. Tyler at Theakstons Old Peculier Crime Writing Festival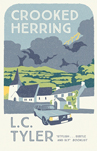 When Sicilian businessman Paolo Brusconi is found murdered in a lemon grove adjoining an archaeological site, four people come under suspicion. But was Brusconi killed because of a dispute with one of the site's guides? Or because of his amorous exploits with the director of the excavation? Or did his killer have another motive altogether?
Come and watch L. C. Tyler, accompanied by other well-known crime authors, try to solve this murder mystery over fine dining at the Old Peculier Crime Writing Festival, hosted in Harrogate, on Saturday 18th July at 6.15pm.