Katharine Moore and a Three-Generation Book Launch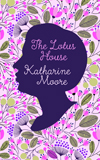 Five books by three generations of writers in one family.
A&B novelist Katharine Moore (1897-2001), her daughter poet Jane Kingshill (1923-2012) and Jane's daughter, folklorist Sophia Kingshill will be celebrated at a launch for their new publications and reissues, on Friday 12th June, 6pm-9pm. Head along to the Cello Factory, London SE1 8TJ to join in the festivities at this unusual event.
Click here for the official press release.