Kate Forsyth at Waterstones Bluewater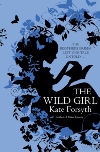 Kate Forsyth, author of the fantastic The Wild Girl and Bitter Greens books, will be visiting Waterstones Bluewater on Friday 5th September, at 7pm.
Kate will be meeting with the book club to discuss the captivating Bitter Greens and to sign copies. The book club meet in Costa (in Waterstones store). Please call the shop on 01322 624831 for further details.