Judith Flanders at Rossiter Books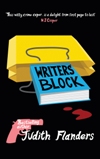 Judith Flanders, A&B author of Writers' Block, also an award winning historical writer, will talk about her latest book, The Making of Home at Rossiter Books on Wednesday 12th November.
The idea that 'home' is a special place, a separate place, a place where we can be our true selves, is so obvious to us today that we barely pause to think about it. But 'home' is a relatively new idea. Click here for more info and to buy a ticket (redeemable against the cost of the book).