Judith Flanders at Musikdorf Ernen writing seminar, Switzerland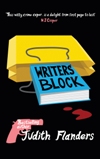 Judith Flanders will be teaching at the Musikdorf Ernen writing seminar in Switzerland, from the 19th – 25th July 2014. Judith, author of crime caper Writers' Block, will be teaching alongside Donna Leon on the summer programme.
Founded by renowned musician György Sebök, the mission of the Musikdorf Ernen Society is to present high-quality cultural events to its members. For more information about the society, and about Judith's course, click here.