Judith Flanders at Kings Place: London Literary Weekend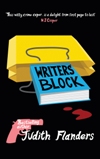 On Sunday 12th October, Judith Flanders, author of Writers' Block (A&B) and The Victorian City (Atlantic) will be speaking at the Kings Place London Literary  Weekend. Judith will be vividly exploring parts of the 500-year history of how and why our homes have come to be what they are owing to social, religious and economic factors.
Expect thrilling mini histories of many household items from cutlery to the fitted kitchen on the way. Click here for more information.