Judith Flanders at Chiswick Book Festival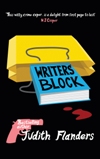 Judith Flanders, author of Writers' Block and well known historian, will be participating in the Chiswick Book Festival on Saturday 13th September. Head along to her event, 'The Making of the Home' in Bedford Park, from 12.15pm – 1.15pm.
The talk will explore how our concept of home has  changed over 500 years,  and will investigate  the  development  of  ordinary household  items and dismantle domestic myths.
Click here for the festival website.