John Wilcox at The Lady's Literary Lunch
John Wilcox will be speaking at The Lady Luncheon about his WWI novel Starshine.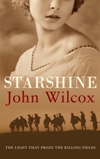 Once again, The Lady is delighted to announce the much-anticipated Literary Lunch date, on Tuesday 28 January 2014. Come along to meet author John Wilcox at a drinks reception, followed by a three-course luncheon. Spend the afternoon listening to the day's featured authors; mingle with new-found friends and come away with signed books in your very own The Lady goody bag.
This event takes place in the beautiful surroundings of the Caledonian Club in London's historic Belgravia. Previous lunches have sold out extremely quickly, so book a ticket now to secure your place.
Tickets cost £85 and include a drinks reception, a three-course lunch, including half a bottle of wine; tea and coffee, talks by the guests and a signed copies of each author's featured book. For more information and to buy a ticket, click here.
Venue address: The Caledonian Club, 9A Halkin Street, London SW1X 7DR