Jessica Mann and Martin Edwards at Crimefest 2014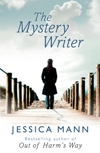 Come and meet Jessica Mann, author of The Mystery Writer , at Crimefest 2014. The author will be participating on the panel for the 'Forgotten Authors' event on Thursday 15th May, at 3.50pm. The event will be moderated by another A&B favourite, Martin Edwards.
For your chance to meet both of these great authors, and to get your books signed, keep an eye out for more details to come!