Jane MacKenzie at Waterstones Inverness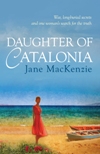 Come and meet Jane MacKenzie, author of the fantastic debut novel, Daughter of Catalonia, due out in paperback in April.
The author will be discussing and reading from her new book and participating in a Q&A. For your chance to meet Jane MacKenzie, head to Waterstones in the Eastgate Shopping Centre, on Thursday 24th April, at 6pm.
Keep an eye out for more details to follow.