Jacqueline Winspear at Heffers Bookshop, Cambridge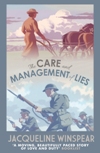 Jacqueline Winspear, author of wonderful new stand-alone novel, The Care and Management of Lies, will be celebrating the release of the book at Heffers Bookshop in Cambridge, on the 20th August. The event will begin at 6.30pm and there will be a chance to put your questions to Jacqueline and to get your copy of the book signed.
To book a ticket to what is sure to be an exciting evening, click here.