I D Roberts at Hunting Raven Books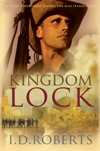 Kingdom Lock author, I D Roberts will be signing books at Hunting Raven Bookshop on Saturday 29th November, from 11am-12.30pm.
Set during World War I, but not in the European theatre – Kingdom Lock tells the fascinating story of the war that was also raging in the Middle East. Make sure you head along to the signing for the chance to learn more from the author himself, and to get your copy of the book signed.