Helen Cadbury at York Literature Festival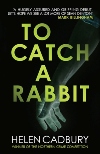 Helen Cadbury, author of gritty new release crime novel, To Catch A Rabbit, will be appearing at York Literature Festival on Saturday 28th March, from 2pm-3.30pm. Helen will be chairing a panel for Carolyn Jess-Cooke's event, 'Writing Motherhood', with Nuala Casey and CL Taylor.
For more information and to see a full programme for the festival, click here.