Helen Cadbury at the Northern Accents Readers' Days – Saturday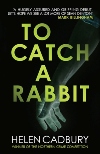 Come and join author of To Catch a Rabbit, Helen Cadbury, alongside Natalie Haynes and Stephen May for readings, conversations and a chance to meet the authors and find out about all aspects of their work.
Northern accents proves that the North of England is home to some of the country's most exciting writers. Authors based in the region discuss how the language, the landscape and the people have inspired their writing.
The Readers' Saturday event is at The Ropery Hall, The Ropewalk, Barton on Humber 14th March 2015 10.30am – 3pm