Helen Cadbury at the Carriageworks Theatre, Leeds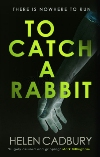 A&B are very excited about the publication of To Catch A Rabbit in the new year (January). Head along to meet author Helen Cadbury at the Carriageworks, Leeds in a talk entitled 'Northern Voices – Crime, Politics and the Supernatural'.
Presented by Northern Accent, a new series of literature events  The North of England is the home to some of the country's most exciting writers. Northern Voices asked three writers based in the region to talk about how the language, the landscape and the people have inspired their writing. Helen Cadbury's award winning To Catch A Rabbit, shows us a new Yorkshire. The author will join Robert Edric and poet Helen Mort. Look forward to a lively discussion and some fabulous readings of poetry and prose.