Helen Cadbury at Leeds Central Library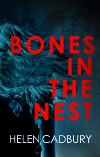 Helen Cadbury, author of the Sean Denton series, will be appearing at Leeds Central Library on Monday 18th April from 6pm as part of Talking Writing.
The first half of the event will be a panel discussion. The second half will be a long table discussion, in which the audience participate as fully as the panel.
This first event will discuss the rhythms of writing. How do you go about pacing your writing? Building to a crescendo? Creating tension? Do you write to music? What are the rhythms of work and how do they affect what you produce? How different is pacing a play and a crime novel? A story and a song? What do they have in common? What keeps them apart?
This is a fantastic opportunity to put your questions to Helen and the rest of the panel.
Tickets are £3 and can be purchased here.