Helen Cadbury at Durham Book Festival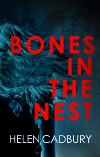 Helen Cadbury, author of The Sean Denton Series, will be joining crime writer Louise Welsh in a debate about the nature of evidence at the Durham Book Festival on Sunday 11th October, time TBC. The motion of the debate is as follows: The House Believes That There is No Such Thing as Hard Evidence.
A key question about Evidence is the extent to which we can rely on it. Does it really constitute objective 'proof', or is it more often the marshalling of particular 'facts' to support subjective beliefs? Scientific evidence carries massive authority – but is often disproved. Criminal evidence can be sufficient to achieve a conviction, but sometimes turns out to be flawed. So can we really say that there is such a thing as irrefutable 'hard' evidence?