Helen Cadbury at Cleckheaton Literature Festival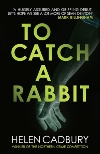 Join Northern Crime Award winner, Helen Cadbury for the Crime Panel at the Cleckheaton Literature Festival, on Friday 8th May, 6.30pm. Helen will be joined panel, by fellow Crime authors, Alison Taft and Leigh Russell.
The Cleckheaton Literature Festival is an annual event held at Cleckheaton Library and West End Park celebrating the arts in Cleckheaton's community.
For your chance to meet the author of gritty crime debut, To Catch a Rabbit, and the soon to be released Bones in the Nest, and to get your copy of Helen's book signed, be sure to come along!