Graham Bartlett & Kia Abdullah in Conversation at Waterstones Wimbledon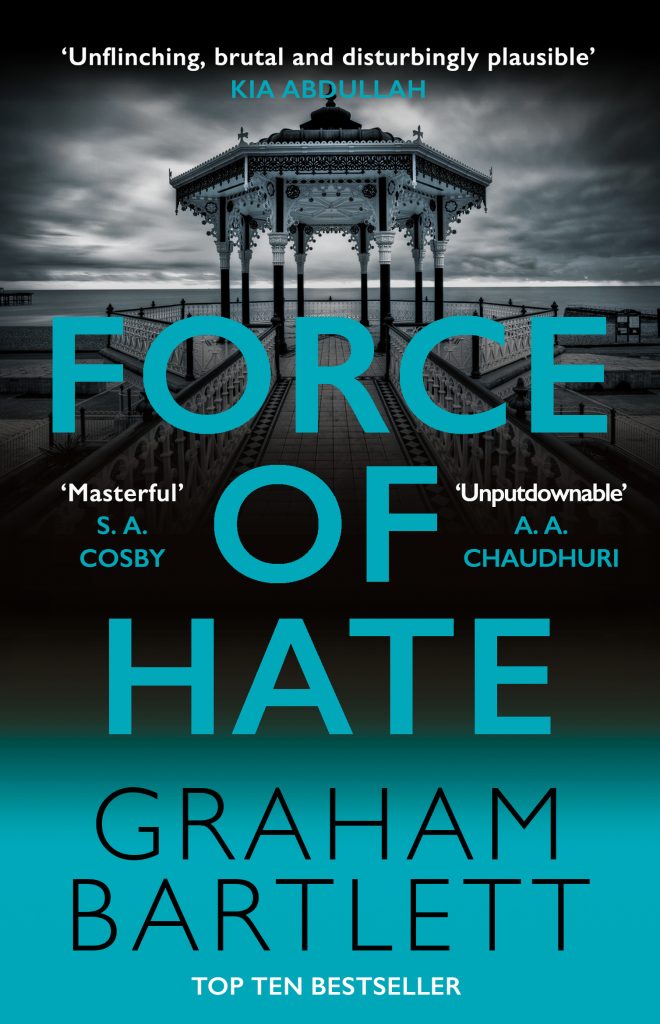 We are delighted to welcome bestselling crime authors Graham Bartlett and Kia Abdullah who will be in conversation about where their experience as crime writers and how they explore the darker side of modern societal issues from both the police and legal side in their books. Join us for a night of high calibre crime conversation!
Force of Hate –
When a firebomb attack at a Brighton travellers' site kills women and children, Chief Superintendent Jo Howe has strong reason to believe the new, dubiously elected, far-right council leader is behind the murders.
Against the direct orders of her chief constable, Jo digs deeper into the killings. She uncovers a criminal ring of human trafficking and euthanasia all leading to a devastating plot which threatens thousands of lives and from which the murderous politician looks sure to walk away scot-free.
Graham Bartlett rose to become chief superintendent and the divisional commander of Brighton and Hove police. His first non-fiction book Death Comes Knocking was a Sunday Times Top Ten bestseller, which he then followed with Babes in the Wood. He co-wrote these books with bestselling author, Peter James, and has since published Bad for Good and Force of Hate starring Chief Superintendent Jo Howe. Bartlett is also a police procedural and crime advisor helping scores of authors and TV writers inject authenticity into their work.

Those People Next Door –
You can choose your house. Not your neighbours.
Salma Khatun is extremely hopeful about Blenheim, the safe suburban development to which she, her husband and their son have just moved. Their family is in desperate need of a fresh start, and Blenheim feels like the place to make that happen.
Not long after they move in, Salma spots her neighbour, Tom Hutton, ripping out the anti-racist banner her son put in their front garden. She chooses not to confront Tom because she wants to fit in. It's a small thing, really. No need to make a fuss. So Salma takes the banner inside and puts it in her window instead. But the next morning she wakes up to find her window smeared with paint.
And prepare for the nightmare to begin.
This time she does confront Tom, and the battle lines between the two families are drawn. As things begin to escalate and the stakes become higher, it's clear that a reckoning is coming… And someone is going to get hurt.

Kia Abdullah is a bestselling author and travel writer. Her novels include Take It Back, a Guardian and Telegraph thriller of the year; Truth Be Told, which was shortlisted for the Diverse Book Awards; and Next of Kin, which was longlisted for the CWA Gold Dagger Award. Her latest release, Those People Next Door, was the Waterstones Thriller of the Month for August.
Kia has also been selected for The Times Crime Club. Kia has written for The New York Times, the Guardian, the Financial Times, The Times and the BBC, and is the founder Asian Booklist, a non-profit that advocates for diversity in publishing and helps readers discover new books by British Asian authors.
Click here to book tickets: https://www.waterstones.com/events/graham-bartlett-and-kia-abdullah-in-conversation/london-wimbledon